Interview with – AFC Oakley Vets
---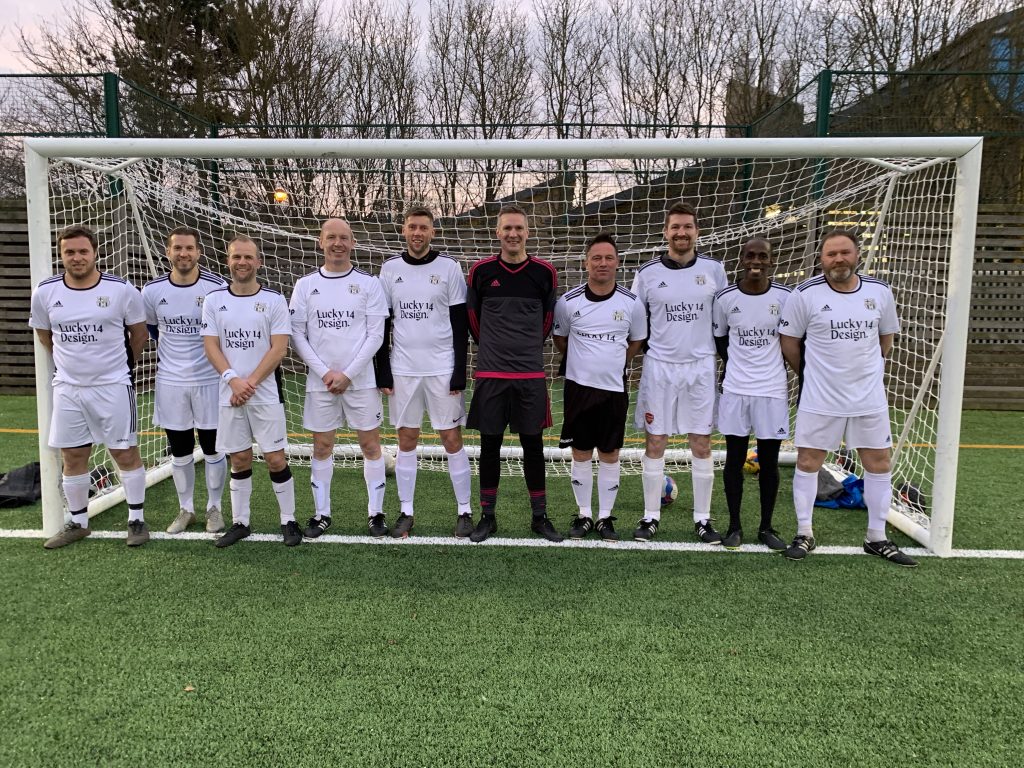 What is the Bedfordshire 9 a-side Veterans League? 
It is a 9 a-side league and cup competition played on 3G/4G artificial grass pitches every other Sunday evening. Games are split into two 25 minute halves. You must be 35 or over to play. Normal football rules apply, but no off sides and no slide tackles.
It is a great way for older footballers to get together again to play the game they love in a competitive environment.
What is the standard like?
The league has proved to be popular, competitive and of a very high standard, especially this season.  There has been some great football on show and some well known local players have rolled back the years. Teams range from a group of youth team managers, work mates, old team mates and others who have previously hung their boots up and have been tempted back into playing.
It has even tempted Andrew Johnson to pick up his boots again. If you know who he is, you are probably a vet. If not, he is a former professional footballer who played as a striker for Birmingham City, Crystal Palace, Everton, Fulham and Queens Park Rangers and capped eight times for England! 
It is very noticeable this season that there are now increasing numbers of players who play in the Bedfordshire Premier League who have just turned 35, now joining teams in the Vets league and making the average age much younger and the standard and speed of the game much higher.
Having played in the league for 3-years, this season is by far the most competitive.
When did AFC Oakley get involved in the vets league?
AFC Oakley first registered with the league in the 2020-21 season, taking over the team formally known as the Clangers.
Our first year was very much a transition year, merging the Clangers with new faces coming in for trials and helping to build the squad.
For the start of the 2021-22 Season I (Peter Neal) took over management of the AFC Oakley Vets and have increased the overall squad size to approximately 18 players, which necessary given our age and other commitments on Sundays!
You may know Dan Kelly – former AFC Oakley 1st Team Player/Captain who now runs the first team as Manager, but he still gets his football fix with the vets team when available. 
Other faces and names that people may also recognise are : Jason Angel, Anthony Eastmond etc… all players who have previously played for Oakley Saturday teams. 
We even have retired Rugby Union player: Chris Bell. He played centre with Leeds, Harlequins, Sale Sharks and Wasps. During his time at Leeds he helped them win the 2004–05 Powergen Cup. Chris retired from Rugby in 2015 after a shoulder injury and now plays midfield or defence for Oakley Vets! 
How are AFC Oakley vets getting on? 
In our first year we finished mid table and also made it to two semi-finals. Unfortunately we didn't progress to either final, but it was still a great achievement in our first full year.
This season we are currently sitting mid table, but we hope to progress up the league table with us being on a great run of form with three wins out of three:
Oakley Vets 4 – 2 Stotfold Juniors
Maulden Vets 1 – 8 Oakley Vets
Oakley Vets 1 – 0 Shefford Town & Campton Blues
We are also still in the cup and hope to progress further than we did in 2021.
How can I get involved and join AFC Oakley Vets? 
If anyone is interested in joining the vets, or would like more information about forming your own team, please contact:
Peter Neal – 07738 643390
pete@afcoakley.co.uk
How can people follow your progress? 
Visit : https://fulltime.thefa.com/index.html?league=4302799
Or follow us on our social channels:
afcoakley.co.uk
@AFCoakleyfc