Match report – AFC Oakley First v Elstow abbey
---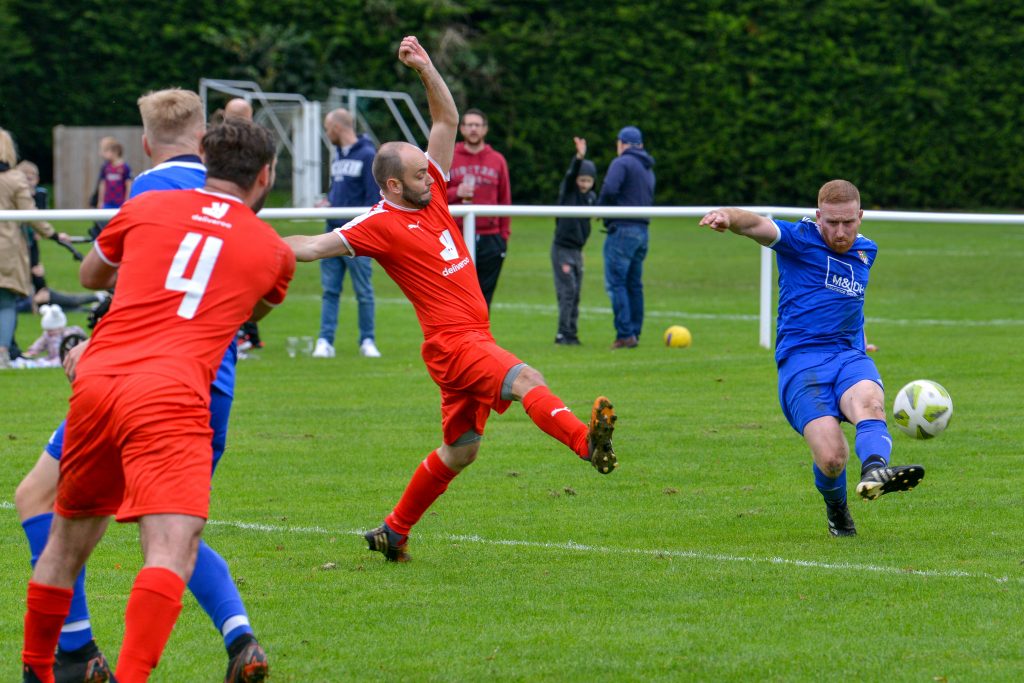 Oakley welcomed Elstow Abbey for yet another home fixture this week and whilst the league seem to be unnecessarily stalling on releasing fixtures, we at least knew that we had a couple of really tough opponents to face before a free week with Elstow making a strong start to the season, and a difficult cup match to follow next week. However, I don't think anyone predicted what was to be the outcome of this game.
In recent weeks, Dan and Rhys have emphasised the need to start well, as we had been picking up results despite regularly starting slow in the first 20 or so minutes of games. We knew that against a strong Elstow side, we couldn't afford to do that and with that in mind, we set out with a change of shape with the intention to limit their wide play and impress our attacking options upon them.
It could have been a worrying start when Cox went to ground to challenge for the ball just inside our box, but thankfully, the referee waved it off, agreeing that he won the ball cleanly. There was also a nervy moment when Warner inadvertently sent the ball back towards our goal, only for it to rebound safely off the post and into Ripley's arms. Otherwise, the back line were keeping Elstow's attackers quiet with Hukin impressive aerially, Alder and Warner a solid wall not allowing Elstow's number 9 to pass and Atherton and Aulsberry doing a brilliant job of doubling up on their left winger, who they looked for often.
Indeed, it was Oakley who made the most of the first half; a long throw from Atherton was flicked on by Barnes and collected at the back post by Mcdonagh who steadied himself before rifling home for the lead. Gillies then picked up a second for Oakley, slotting into the bottom corner before Barnes added a third when 1v1 with the keeper. 3-0 at Half Time.
We were able to focus on a few of the finer details at half time following such a strong first 45 and this paid dividends in the second, making an excellent start through McDonagh once more, finishing from close range. Liburd, who did now have a shirt on, came on and made an instant impression with some excellent team moves involving him and Smith resulting in further goals for the former and Gillies. Elstow had scored a lone reply when their 9 was through 1v1 but Oakley responded brilliantly. Having scored braces each, Gillies and McDonagh were both withdrawn which allowed us to bring in Larrier, Afun-Ogidan and Kumar without upsetting our rhythm. Liburd scored the most impressive goal of the day as he stuck out a big leg for a brilliant overhead kick. The race to the hattrick was won by Gillies, who, reintroduced on the right hand side, saw his cross/shot end in the top corner to cap off a phenomenal day for the Oaks. 9-1 the final score and a real impression made on the league as we leapfrogged our visitors to finish the day in 2nd place, still undefeated.
We will now be striving to replicate this in a difficult cup game against Queens Park Crescents next week. It should be a great atmosphere at OSSC.
COYO!