AFC Oakley First v Caldecote First
---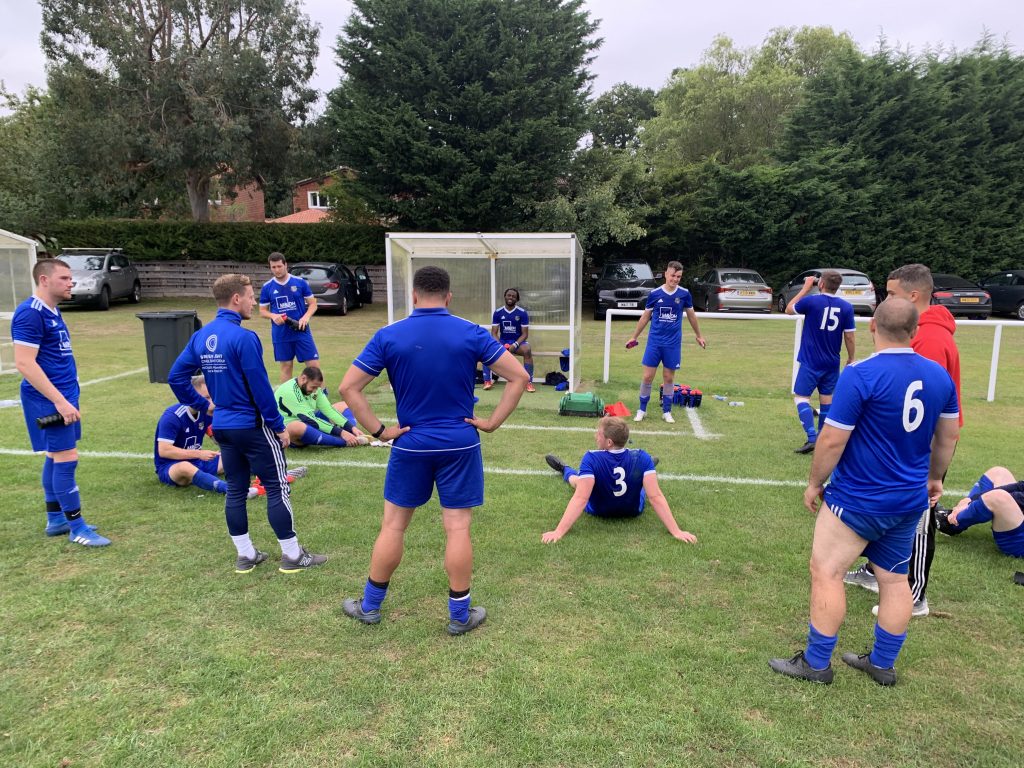 Oakley set out to continue their undefeated start to the season back at home following a hard fought draw at Cranfield a week earlier. Their next test was a strong Caldecote outfit who, since facing Oakley in their final preseason game, had won 3 of 3 games in the league conceding just 2 goals in the process.
Though it might seem trivial, the quality of the warm up was immense and there was a really good spirit amongst the group having had a few difficulties to put it mildly in the Cranfield game. The emphasis in the changing room pre-match was very much about two things: working together and starting fast. Despite this, there were a few loose touches in various areas of the pitch which would have given our opponents some encouragement. However, Oakley were showing some promise of their own early on and Matt Barnes was unlucky to see his left footed drive well saved by the keeper. Our forwards were getting in behind the Caldecote back line at will but it was a superb pickout from Oaks keeper George Ripley who found Alfie Dawson on the right wing that bought Oakley's first goal. Dawson, making his first competitive start in Men's football lofted the ball over the opposition keeper beautifully to put Oaks ahead. Minutes later, he almost made a mess of a golden opportunity, but got enough of a shin on the ball after Stu Gillie's parried shot fell kindly for him, to see it over the line and double the lead.
With a few slow starts in recent weeks, being 2-0 up must have felt uncomfortable for us as we gifted Caldecote two very avoidable goals to somehow take us into half-time level. This time, the team talk centered on being more combative in midfield and continuing to put pressure on their back line by getting the ball in behind. It was a much improved start to the half with Billy Cook and the introduction of Deji Afun-Ogidan winning a lot more of the ball in central midfield. The back four of Cox, Atherton, Alder and Warner looked assured and we began to play much more confidently from the back. George Ripley was not tested too often but did very well when called upon, despite his clear struggles with a leg injury.
Oakley regained the lead when the returning Joe McDonagh launched a long throw into the box with Alder making first contact and when the ball fell for Carl Warner on the edge of the 18, it was finished with aplomb into the bottom corner. From here, Oakley looked well in control but then came an extraordinary 10 or so minutes. In this period, Nathan Aulsberry managed to score, get substituted off, come back on, score again, win a free kick and then get sent off! In amongst that, Ripley had to be subbed himself and so big credit goes to Alex Liburd who had only been on a few minutes but put the gloves on, being the true team player he is. His presence was certainly felt a few times with a host of players being left on the deck whenever he came to clear the ball!
Deji then put the icing on the cake with a powerful drive which smashed in off the bar and secured a 6-2 win for the Oaks. A very impressive 2nd half topped off a good September with 16 goals scored in 3 home games. Next, we take on Flitwick in the County Cup. COYO!