Interview with : Dave Boddington
---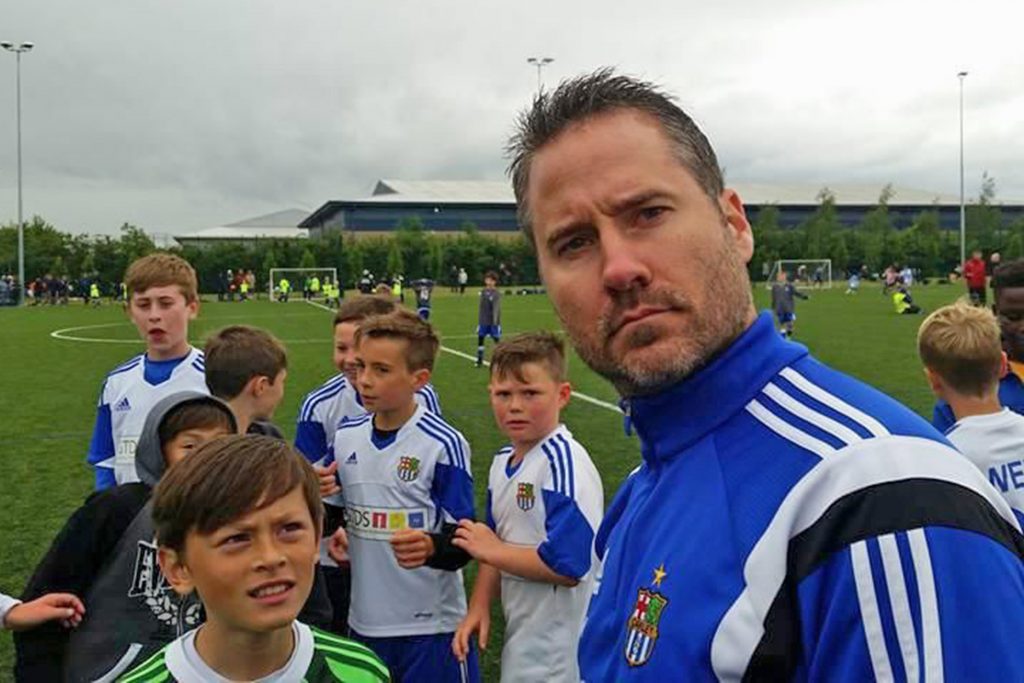 What is your footballing history?
I've been playing football since what feels like the day dot – as one of three boys, and a twin to boot, there was always a ball being kicked around and lots of rivalry and competition. I played youth football in Bletchley – my dad was the coach of our local youth football team (the apple doesn't fall very far right?) and I played for league, school and regional representative sides.
As an U16 I joined the Aylesbury Utd U18 side, playing for them in the midweek UCL league for three seasons alongside Bletchley Colts at the weekend.
During my time with Aylesbury I also made a number of appearances for their first team in the Diadora (now the Isthmian) Premier League and League Cup – and we famously reached the third round of the FA Cup, losing to a QPR side including Les Ferdinand and managed by Ray Wilkins.  My dad still has the press cutting from a Sunday paper including a photo shoot of us recreating the Duck-walk on a frozen training pitch, wincing in pain!
Through a teacher at St Thomas Moore, in 6th Form I was also introduced to Wootton Blue Cross and spent a couple of seasons with them and then Kempston Rovers in the UCL. And it was playing against a Northampton Spencer side in the UCL that I picked up a serious injury, snapping my ACL in a tackle, well, giving away a foul…
Following 18 months out of the game after having my ACL reconstructed, I went on to play for Warwick University, reaching the BUSA Cup Final.
And after University I played local football in Milton Keynes for a number of years, but continued to have issues with my knee including a couple more operations to deal with further damage.
And so when I moved into Oakley in 2001, I started to play for AFC Oakley on a Sunday, continuing to do so into my 30s and relative old-age.
What is your Oaks story?
Picking up from there – I played for AFC Oakley on a Sunday for a number of years, but as age and the state of my knee got the better of me I began to focus more on coaching – with my son having started to play for Oakley also.  I initially 'signed-up' to help the coach Justin herd a bunch of 5 and 6 year olds around a pitch but found I really enjoyed what I was doing and together we grew the team into quite a successful one.
I have now seen the side through to U18 football with us (as U17) winning Division 2 of the Bedfordshire Saturday League last season.
I've always been keen to develop the player pathway within the Club, wanting to try and bridge the gap from youth and into adult football and so I am helping Ray to run the Development side, with a number of the boys who started with us at 5 years old now playing in the adult set-up – which I am immensely proud of and will hopefully lay the foundations for more players moving through our mini dn youth ages and onto representing this brilliant club in the adult sides in future years.
Through my time at AFC Oakley I have also had the roles of Treasurer, Club Development Office and spent the last 3 seasons as Chairman. So I have witnessed and played a part in its amazing growth from relatively humble roots as four different clubs into the Village (and area) institution that it is now.
What are your aspirations for the season?
To bring success to the Club – and that will be measured in both results and performances.  With a young side, but one which has been schooled for a number of years in playing positive and possession-based football, to bring that into the adult side in the Beds County League, with the added challenges that brings, I will consider success.
What are your 3 non-negotiable traits in a player?
• Willingness – to listen, learn and apply what they've been taught and asked to do
• Trust – in their teammates, their coaches and themselves
• Commitment – being prepared to dig in and work hard
What would you tell an 18 year old you?
Put that pint down and do some proper rehab