AFC Oakley First v Riseley Sports First
---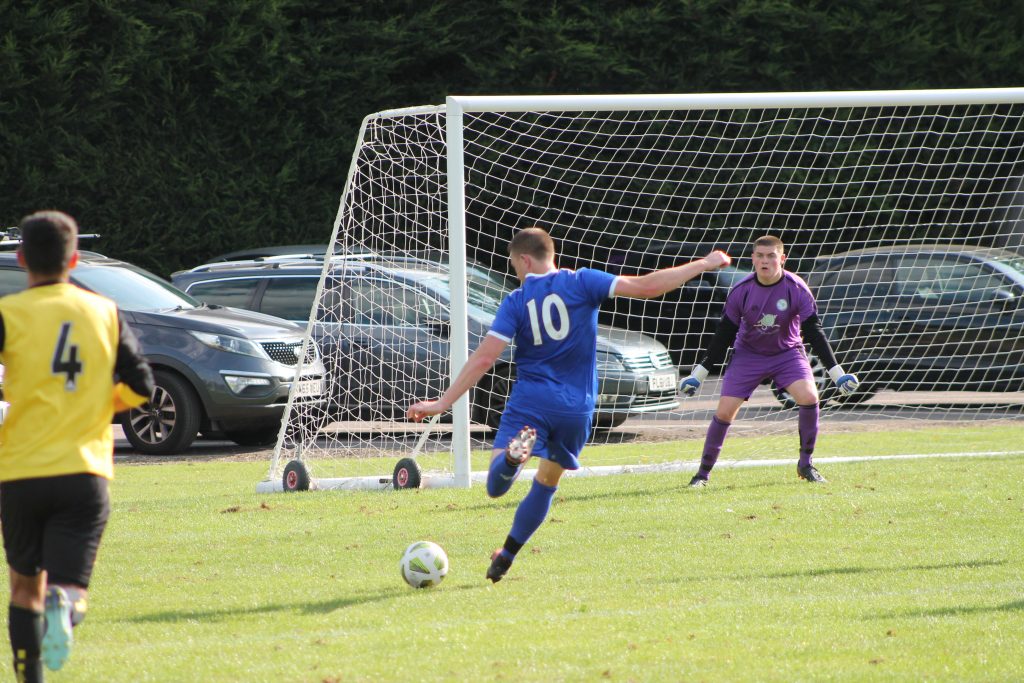 On what was a surprisingly sunny Saturday afternoon, Oakley put in another strong display to match the opening weekend's score line and record their second 5-1 win of the season, this time against a particularly strong Riseley side.
The afternoon saw the return of Adam Tysoe to the dugout alongside Dan Kelly due to assistant manager Rhys Allen's decision to book a last-minute, extraordinarily over-priced ticket to watch the "homecoming" of one Mr Cristiano Ronaldo at Old Trafford. Rhys did promise he would add £50 per Ronaldo goal to the end of season kitty so a tidy £100 is owed – thanks Rhys!
The starting XI saw the return of Harry Atherton against his old-club, whilst Billy Cook made his first start of the season following injury alongside captain George Cox and the ever-impressive Stu Gillies in a strong midfield 3. There was a new-look (or possibly old-look, depending on how you look at it) front-3 of Shaun Barnett, Ali Smith and Matt Barnes, whilst Oakley's very-own (self-proclaimed) Maguire/Varane partnership of Robbie Alder and Carl Warner continued at centre-half.
The first 25-minutes of the match was evenly contested with both sides having chances. George Ripley continued his good start to the season pulling off a couple of fine saves, but it was the combination of Shaun Barnett and Matt Barnes which saw Oakley open the scoring.
A long ball from the back was played out to Barnes, who had acres of space to glide into and a stunning shot crashed into the cross bar and bounced out for Barnett to nod home from 0.5 yards – a real "strikers finish".
Riseley then seemed to drop off, and it was Barnes who doubled Oakley's lead only a few minutes later with a low shot beating the Riseley keeper to make it 2-0 at half-time.
The second half saw much of the same of the first half, with both sides enjoying spells of possession and creating half-chances. Much of Riseley's play came through their big centre forward who was dealt with well all afternoon by Alder & Warner.
Oakley's 3rd came from a corner which was delivered perfectly by substitution Aaron Baxter, also playing his first game of the season following the birth of his son (CONGRATULATIONS), and Stu Gillies powering home a header from 12-yards.  It was Baxter who claimed Oakley's 4th direct from a free-kick, before Barnes doubled his own tally for the day to make it 5-0.
The second half also saw the return of fan-favourite Harry Gray following a period of exile, whilst Alfie Dawson and Abel Mensah also impressed from the bench.
Riseley did claim a disappointing consolation in the last few minutes to make it 5-1 but all-in-all it was another strong performance from the Oaks before a huge-game away at Cranfield next.
Man-of-the-match went to Matt Barnes, who produced one of his best displays of recent seasons both out-wide and up-front, and Oaks will be hoping he can take that performance into next week!