AFC Oakley First v Marston Shelton Rovers
---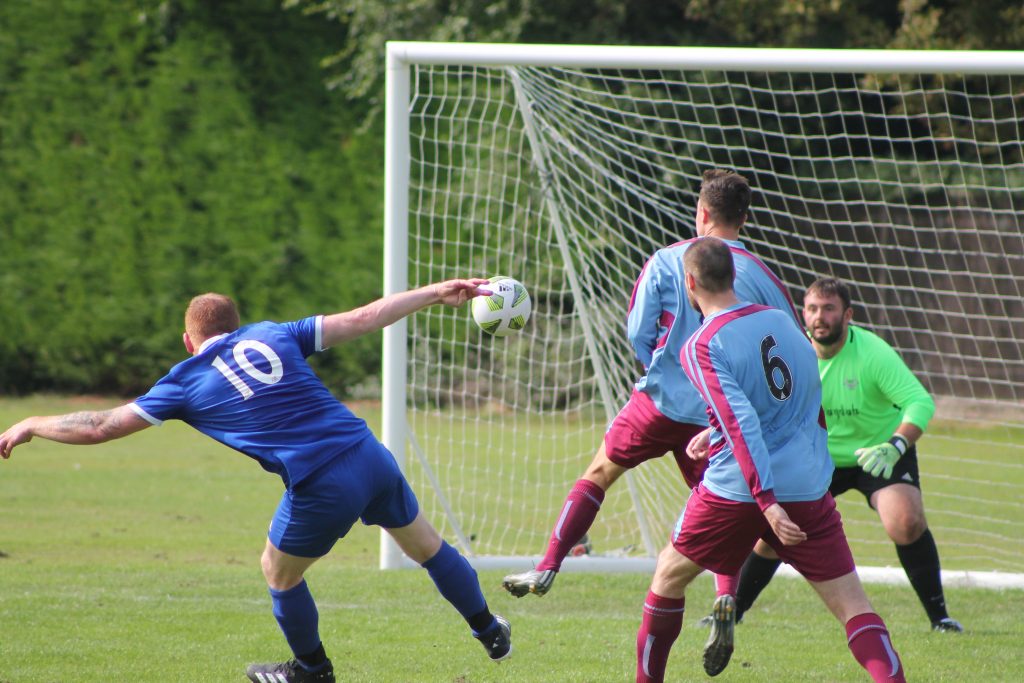 Oakley headed into their season opener with a strong squad, and coming off the back of a hard-fought but well earned victory against Premier division opposition in the final preseason friendly, confidence was high. Team spirit was also up with an early meet time to come together for squad photos and an appreciation for somewhat upgraded surroundings with new pitch barriers and refurbished changing room having not been at home through the month of August – thank you to those involved in the work on those facilities.
Despite this, though, we did not get off to a brilliant start. Adam Lewis and Stu Gillies did have early sighters, but we conceded possession too often in poor areas and allowed runners from Marston's midfield to bypass ours on too many occasions. Our slow start to the game was compounded by the award of a penalty after Dan Marriott made contact with the Marston forward just inside the area; the penalty duly finished low to George Ripley's left.
Oakley managed to regain some composure and started to control much more of the game with Ripley rarely tested after the penalty, though he was quickly off his line once or twice and looked assured when called upon. The left hand side was proving to be a good outlet for Oakley with Elijah Hukin and Kyle Hawthorne starting several attacks from that area. Hawthorne in particular was causing Marston's right back a lot of issues and was cleaned out on two occasions with the defender unable to get anywhere near the ball. Our equaliser came after Shaun Barnett had been played through on goal, and when 1v1 with the keeper, he selflessly squared the ball for Nathan Aulsberry to tap in from inside the 6 yard box. Barnett then showed exactly why he had returned to the First team fold with a calm finish past the keeper to cap off an excellent team move and take us 2-1 into the break
At half time the message was clear: continue as we ended the half. Everyone recognised the need to start quicker but credit was due for the turnaround we had seen from 20-25 minutes onward. Changes were made steadily through the second half and they certainly had an impact on the game. Billy Cook came into central midfield and he and George Cox controlled that area which allowed Carl Warner to dictate more play from our back line and Hukin to get further forward and begin breaking into the opposition box. Aulsberry added his second and young Alfie Dawson was pivotal in the next two goals; he ran beyond Aulsberry on the right flank to then cross in for Ali Smith to head home and then had a headed finish of his own after Matt Barnes and Robbie Alder had both headed back across goal from a corner.
Though it didn't start how we had intended, we dominated much of the game and scoring 5 in the first game of the season is very pleasing. Our attention now turns to Riseley, who we host next. MOM – Elijah Hukin.