First Team Pre-season 2021 Review
---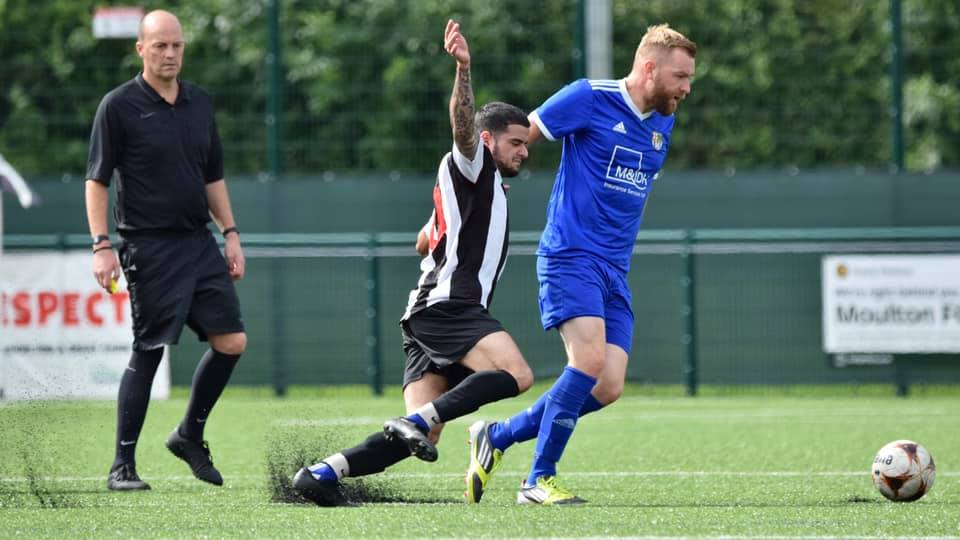 It has been a jam-packed preseason for Oakley with no less than 7 fixtures against a mixture of opposition taking place already, with 1 further match set to take place before the season opener against Marston. There were therefore plenty of chances for developing fitness, sharpness and tactics to be worked on.
It was pleasing to be able to get a few training sessions in before welcoming our first few opponents to Oakley Sports & Social Club before hitting the road in the latter matches in order for the home pitch to receive some treatment as well as allowing for improvements to be made to the changing rooms. We started in great fashion with a 4-1 victory against familiar preseason opposition in the shape of Old Bradwell. We were disappointed to go 1-0 down but responded quickly with a brilliant Stu Gillies free kick. We then showed great sharpness in the box to add further goals through Nathan Aulsberry, Matt Barnes and Josh Moran. Aulsberry continued to lead the line well with two further goals in our next game against Eaton Socon. However, whilst we will believe we were the better side overall, we allowed Eaton's strong forward too many opportunities and they took a 3-2 win.
The result was the same next time out with goals from Barnes and Alfred Dawson not enough to claw back Rushden & Higham's 3-0 lead. Despite the two defeats so far, Oakley were starting to take shape and general performances were looking strong. We improved next time out, securing a 1-0 win against Totternhoe with Shaun Barnett sharpest in the box to grab his first goal of preseason. Next up was Cogenhoe United Reserves and we again allowed our opposition to take a 2-0 lead with goals that we could and should have done better to prevent. However, a close range finish from Harry Atherton and a well taken goal from Elijah Hukin brought us level. We dominated the 2nd half but couldn't find a third to take the win.
We headed over to Moulton for a double header on 7th August and with several First Team players unavailable, it was a test of character and fitness for Oakley. After conceding a goal on the break in the first half we responded almost immediately with a goal from Barnett. The same happened in the second half but Oakley really upped their game and a superb second 45 with 2 more from Barnett and a goal from Gillies saw a 3-4 result in our favour. One more fixture in Northants saw a 1-0 victory against Higham Town with Robbie Alder finishing at the back post after several missed chances from most other Oakley players!
The first set of fixtures for the new season are out and Oaks can now look forward to getting started for real. Some players have departed, but some have joined and some have regained fitness which means ultimately, Oakley are in a very strong position to challenge for honours this season as we usually do. First up is a home tie against Marston, and we can't wait to get going.
COYO!
Results:
Oakley 4 v 1 Old Bradwell (SML 2)
Oakley 2 v 3 Eaton Socon (Cambs County League)
Oakley 2 v 3 Rushden & Higham (SML 1)
Oakley 1 v 0 Totternhoe (SML 2)
Oakley 2 v 2 Cogenhoe Reserves (UCL Reserve League)
Moulton FC 3 v 4 Oakley
(Northants Combination Prem)
Higham Town 0 v 1 Oakley (Northans Combination 1)