Mini's Xmas Party – Saturday 14th December
---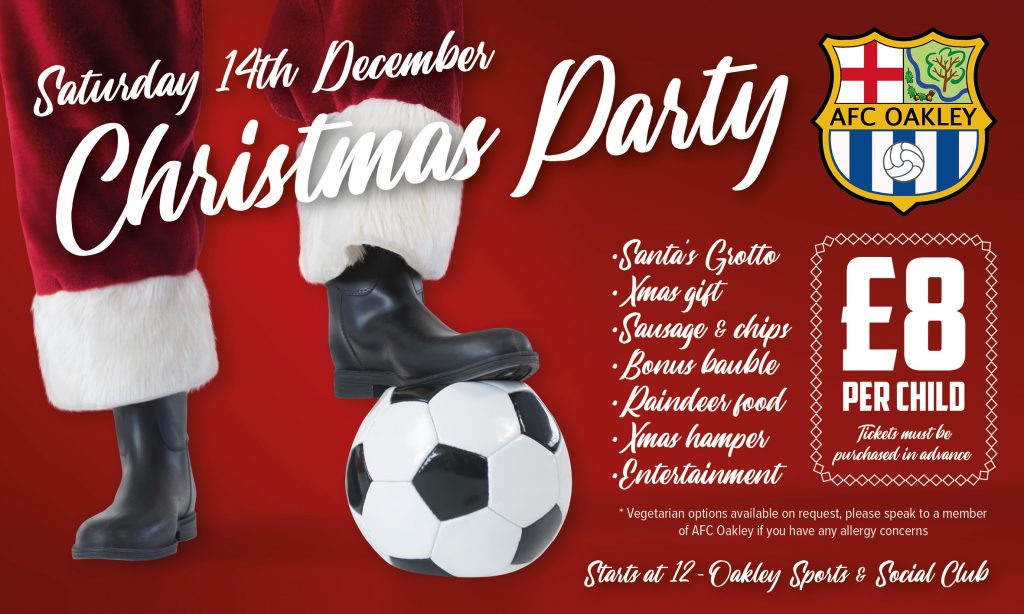 It's that festive time again where we have our annual AFC Oakley Mini's Xmas Party!
This year it will be on Saturday 14th December at the Oakley Sport & Social Club and will start from 12.00 midday.
Only £8 per child (Siblings are welcome)
We'll be doing the usual Xmas Hamper raffle & bonus ball (bauble…) and reindeer food making for younger ones.
• Santa's Grotto
• Xmas Gift (included)
• Sausage & Chips (included)
• Bonus Bauble
• Raindeer Food Making
• Xmas Hamper
• Entertainment
Provisional schedule: (please let us know if you need to change timings due to fixtures)
12.00 – U6s
12.30 – U7s
13.00 – U8s
13.30 – U9s
14.00 – U10s
It's also worth mentioning that: ALL 100% OF THE PROFITS WILL GO INTO SUPPORTING THE U6-U10 AGE GROUPS FOOTBALL!!!
U6-U10 Coaches – Please publicise this important club fundraising event to your kids and parents and let Ranj ranjit@rupra.com from the U8s or myself know ASAP how many will attend?
Thanks very much again for your support and we look forward to seeing you all!
*Vegetarian options available on request, please speak to a member of AFC Oakley if you have any allergy concerns?
**Tickets must be purchased in advance