Interview with Rhys Allen
---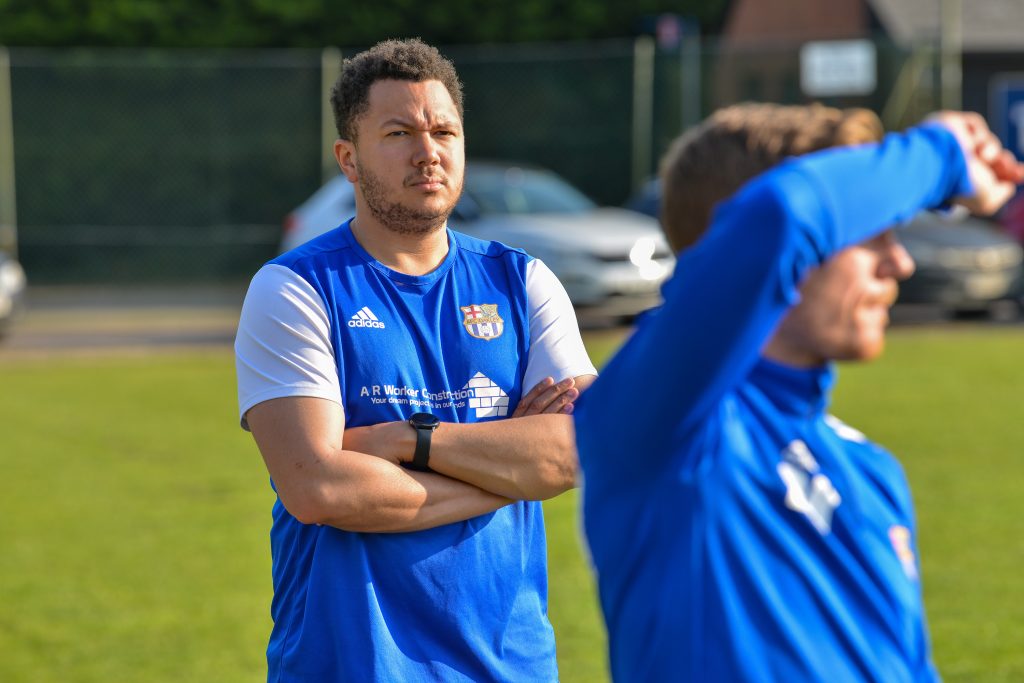 What is your footballing history?
I started out playing for my school teams before joining my first youth club team at 10/11. I played a few years for Brickhill Wanderers including playing up a year before moving onto BPR. I was called into the County squad when I was 16 and played a few games as a right midfielder but eventually began to move back into defence from this point. A good experience was playing for Kempston Rovers at U18 in the midweek floodlit league which meant playing at some decent grounds before I went off to University. At Brunel, I initially played intramural football before being called into the Men's teams at the end of my first year, captaining a side as a third year and sitting on the committee. Ex-Chelsea and Luton player Paul Hughes was one of our coaches at the time!
After Uni, I played Sundays for a while but joined Oakley I think in 2011. I remember my first game against Marston, winning about 15 headers in the middle of the park and that soon became my trademark! There was one brief season that won't be spoken about, but otherwise I've been at Oakley since, playing for both the first and reserve sides, including the season when both sides won their respective leagues.
I coached the reserve side last year as a player-coach and also coach my school teams and the county schools rep side, reaching a National Final a few years back.
What is your Oaks story?
So I've been at Oakley for close to 10 years now. Funnily enough, Oakley were one of our main rivals in youth football, so it's been great to be at a club that is still competitive in Men's football. I felt very welcomed by Gary, Den and Les who were in charge at the time and we have always had strong squads, winning a few trophies along the way. In one season, I played something like 50 games for the first team, reserve team and my Sunday side combined and this was the year we won both league titles. I won the Clubman award that season but the idea of playing that many games is a far stretch from today's reality!
I lived in the village for a few years and felt this brought me a bit closer to the club, especially with some traditions such as the boxing day friendlies, the club fireworks and Christmas eve drinks with the locals. The best thing about this club is the togetherness that exists between the players, the club and the locals and this is so easy to see for anyone inside or outside of the club.
I have effectively played for the first and reserves for many seasons up to the covid years but was often the go to guy for crunch matches (pardon the pun) against the likes of Ickwell when the league was there for the taking. Last year though, I stayed with the reserves as captain and coach which was a good experience and I'm now happy to be working with the First team again. That said, we are finally at a stage, I think, where we exist as a proper club with proper connections to the reserve/development and youth sides.
What are your aspirations for the season?
We want to win the league. We know that's what we could have done in the last two seasons which were hit by lockdowns and seasons prior as well. We believe ourselves to be the best club and the best squad in the league and now we can hopefully prove it once more. We want to play good football with a winning mentality and that should see us achieve that.
What are your 3 non-negotiable traits in a player?
Communication. As a player, I was never the best technically on the pitch but I made sure I did my job and that everyone else did theirs. 
Work rate. Nobody is so good that they don't need to work for the team. Everyone on the pitch has their job, and part of that job is helping your team. 
Be a winner. Know what it takes to win. Flicks and tricks are great but do you remember those when you have lost at the final whistle?
What would you tell an 18 year old you?
Don't tell yourself you could have been better when it's too late to do anything about it, do the work now!