Mini's Xmas Party – Sat 15th December
---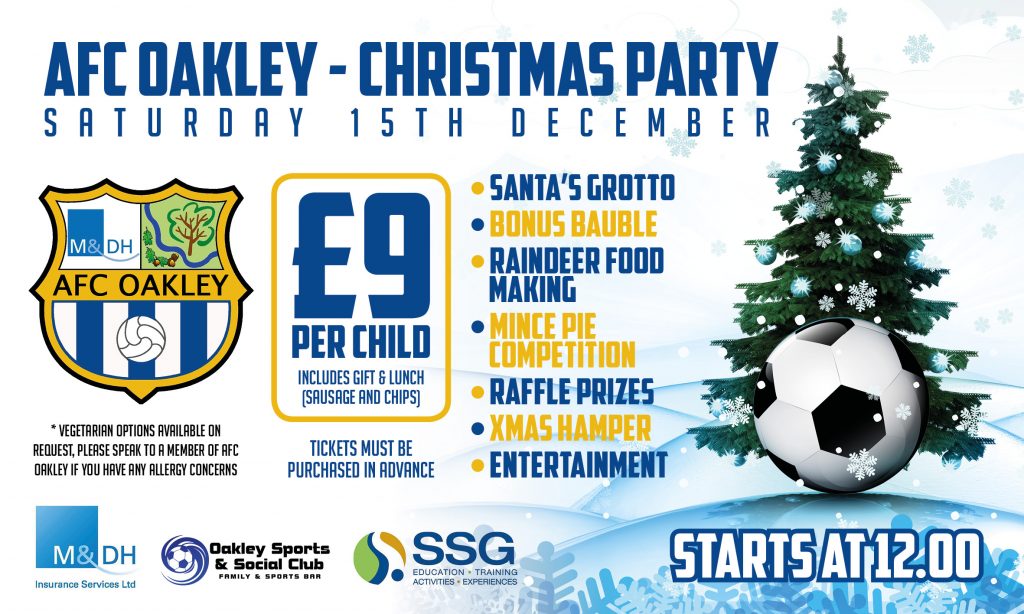 Mini's Xmas Party – Sat 15th December
• Raffle Prizes • Xmas Hamper
Only £9 per child (Siblings are welcome)
Price includes a Xmas Gift & Lunch (Sausage & Chips)
We'll be doing the usual raffle & bonus ball (bauble…) and reindeer food making for younger ones.
There will also be a Best Mince Pie competition so kids and parents can bake and bring along if they would like to enter?
Any raffle prizes that you can contribute will be greatly appreciated!
ALL 100% OF THE PROFITS WILL GO INTO SUPPORTING THE MINI'S FOOTBALL!!!
U6-U10 Coaches – Please publicise this important club fundraising event to your kids and parents and let us know ASAP how many will attend?
Thanks very much and we look forward to seeing you all!
*Vegetarian options available on request, please speak to a member of AFC Oakley if you have any allergy concerns?
**Tickets must be purchased in advance